Foam Cutting and Design can cut a round piece of foam to any diameter and thickness for any purpose required. It maybe for bar stool or floor pad, it could be for a children's soft play product or a round pouffe seat.
We offer a large range of foam densities to suit your preference for many different applications.
Please find a list of grades we supply below together with the type of applications these are used for. There will be many other uses that are not stated in the information below so why not give us a call to discuss if there is a foam density that will suit your product required.
RX24/130 is a 24kg low density foam ideal for budget headboards, packaging, costume making, car trimming, thick crash mats and back cushions.
---
RX24/90 is a low density 24kg per cubic meter foam that is generally used for super soft sofa backs or any other seat backs. Also used for very thick crash mats.
---
RX28/150 is a White medium density 28kg grade foam and is used as a packaging material. As well as seat backs supports, children's soft play products and wall padding.
---
RX28/150 is a Grey medium density 28kg grade foam and it is used as a packaging material. As well as seat backs cushions, children's soft play products and wall padding.
---
RX30/125 is a softer medium density grade foam used for mattresses, soft mattress toppers, plush headboards, seat backs and a whole lot more.
---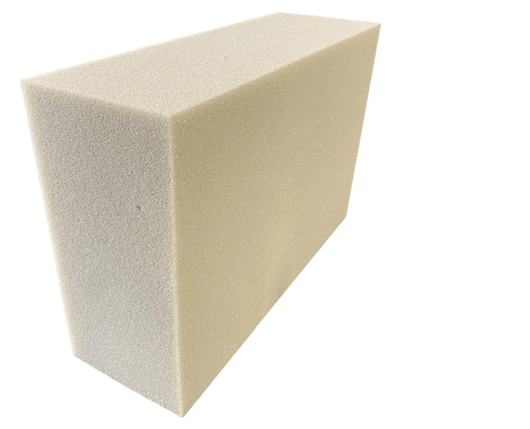 RX36/125 is a medium density foam used for quality foam mattresses, medium comfort sofa cushions and any other softer seating. It can be used for caravan cushions, mattress toppers and many upholstery applications such as sofa bases and backs.
---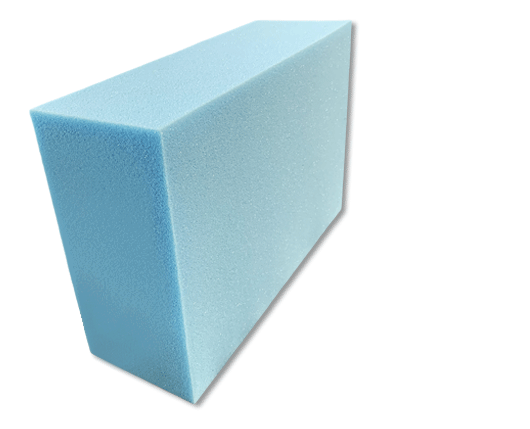 RX33/190 is a firm medium density foam. This grade is used for seating firm mattresses, crash mats, lower cost sofa cushions, camper van rock'n roll mattresses, camping mattresses, firm mattress toppers and many other seating requirements. Also for crash mats for parkour and bouldering activities.
---
RX39/200 is a high density very firm best quality seating grade foam. Ideal for firm sofa cushions, campervan mattresses and rock'n roll beds, sofa arms, caravan seat & beds, camping thin mattresses. Also used for dinning chair pads, boats and campervan seats and any other high density best quality seating requirement.
---
RB80 is a medium to high density reconstituted foam also known as chip foam which is used for seating such as pub bench seating, church pews, safety floor padding, bar stools and sometimes used for packaging applications.
---
RB95 is a very firm high-density reconstituted foam used for bench seating, bar stools, soft play floor pads, machinery packaging, soft play equipment.
---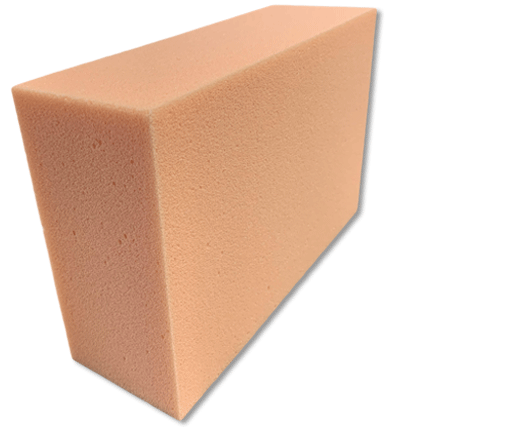 RG50/135 is a luxurious comfort high density foam which allows you to sink into high density foam offering support and comfort. Ideal for sofa and seating cushions 5" thick and above. Also used for extra comfort caravan seats, seats and backs that drop in to make a bed. Often would have a polyester wrap with stockinet for that extra plump look and feel.
---
VC50/55 is a medium density visco-elastic memory foam used for memory foam mattress toppers, memory pillows and for the top layer in our Comfortlux memory foam mattresses. Also used for many other applications in the health and medical sector for extra comfort, extra support and weightiness support in seating and sleeping products.
---
VC50/40 is softer medium density memory foam for extra soft mattresses, toppers and pillows. Also used for many other applications in health and medical products.
Contact us if you would like any further information or help choosing the right foam and polyester combination to suit your sofa and preference.
Tel: 0117 9414035 or email: sales@foamcut2size.co.uk